Restaurants, cafes and dining
Of course eating and dining are the most visible and one of the most important reasons to come to the street, and while buying food from shops is important and why many locals come here, sitting down and eating is just as attractive.
Unless you have a local resident to guide you it is best to stroll around first and see which types of establishment meets your style. There are of course plenty of traditional French eateries but today in the multicultural Paris you will not be surprised to find Chinese, American, Italian and more choices.
While many restaurants are historic and have stories that go back hundreds of years, others are modern and serve food in a style and speed that fits the speed of 21st century life. Eat in little family restaurants that serve only a set menu, try fast food French style from Quick burger or eat an authentic Italian country style pizza from a small local chain. Everything is possible here on rue Montorgueil!
Historic
L'Escargot Montorgueil - For more than 200 years this traditional restaurant has been serving the French snails in a variety of ways, and with that of course a range of other dishes. Frequently mostly by locals but also welcoming to the interested visitor, there is a menu in English, you will find exceptional food and wine choices here. Don't miss out on the famed 12 Burgundy Snails in Three Flavors! Located at 38 Rue Montorgueil it is easily recognized by the giant snail above the doorway!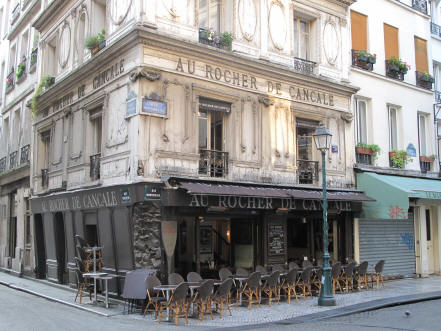 Au Rocher de Cancale - One of the oldest restaurants in Paris this 1804 establishment focused on Oysters when it first opened and quickly became a fashionable place to eat. Originally on the other side of the road it has moved locations a few times but today is at number 78. Excellent for a late dinner, it offers a range of dishes in a friendly environment. Try eating in the upstairs dining room for a candle list experience. Try the grilled camembert with honey and herbs, the salmon tarta or even a cheeseburger done with traditional French flair! website
Traditional French
Cafe du Centre
Le Marie Stuart
Restaurant a la Grille Montorgueil
Le Compas d'Or
International and mixes
Drole d'Endroit Montorgueil - Mixing french and american influences
Bianco
Branco Ristorante
Monthai - Asian flavours whaft from these kitchens
Planet Sushi
La Cucaracha
Quick, the french fast food giant is here, as is the international Starbucks Coffee, both near the north end of the roadm near the U Express.
Deliziefollie - A great icecream parlour with italian style Gelato with cups of deliciousness to take away.